Beyond Just "Cupping": The Scientific Approach to Move Better With "Cup Therapy"
What are those circles on your body– octopus marks? Bruises? A branding on your skin as a part of a hidden club for an underground society of elite athletes?!
Cupping, or more specifically termed, "Cup Therapy" and "Myofascial Decompression" (MFD) when paired with loading, is an evidence-based treatment using cups to reduce pain, optimize movement, and improve the mind-to-body integration.
Whether it be overcoming pain, unlocking new PR's with your fitness goals, or reconnecting with your body to actively move towards your goals and hobbies, Cup Therapy with a Certified Provider can be the solution!
This article differentiates regular static cupping from Cup Therapy and Myofascial Decompression and shares research on how Cup Therapy can unlock a greater potential to move better so you can live better!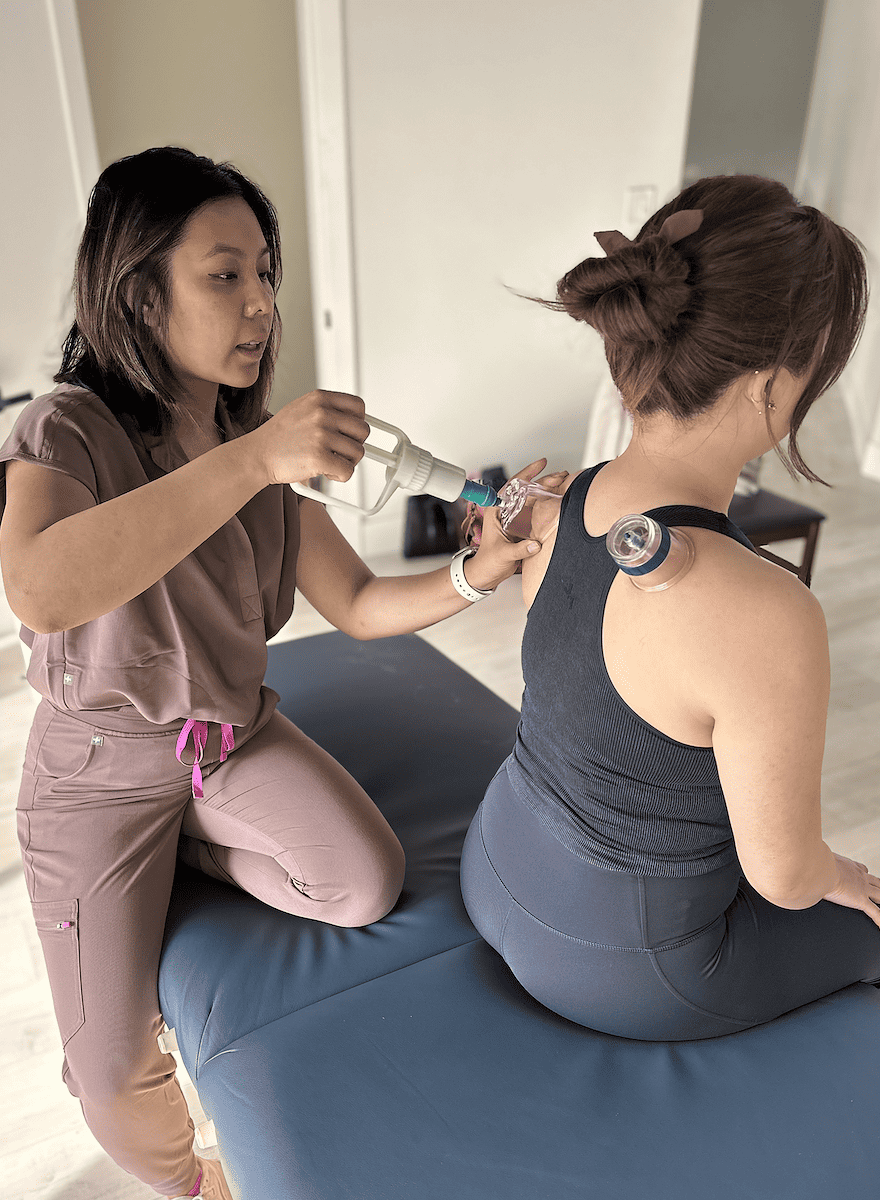 #WhatTheCup is Cup Therapy?
"Cupping" vs "Cup Therapy" and "Myofascial Decompression"
Since 1500 B.C. in ancient Egypt, cupping has been a form of traditional Eastern medicine through holistic practice. There are many different types of cupping techniques: dry cupping, wet cupping, massage cupping, and even fire cupping to name a few! Eastern medicine tools have used cupping as a traditional tool to improve blood and energy flow.
"Cup Therapy", also known as "Myofascial Decompression", integrates Eastern medicine tools with Western evidence-based physiologic and movement science principles to help improve body function.
Cup Therapy is different from traditional cupping methods because it integrates movement with the cups to help improve the mind-to-body connection!
It is important to differentiate "Cupping" with "Cup Therapy" and "Myofascial Decompression" to create a form of consistency with research and standardize methods for treatment. Cup Therapy is a form of myofascial decompression that has scientifically been proven to be more effective than holistic versions of treatment to impact patients and clients everywhere.
How Does Cup Therapy Work?
Cup Therapy is a form of negative pressure, which essentially creates a suction under the cup to target different layers of anatomy. Depending on the amount of pressure, the cups can affect as deep into layers of the muscle with intermuscular fascia or be more superficial to affect different layers into the skin to improve body awareness or lymphatics!
Cup Therapy integrates movement science, which means you move with the cups on! Scientifically, this adds a stimulus to your brain which could help repattern pathways to essentially retrain the brain to move better and even overcome pain when executed appropriately!
What are the Benefits of Cup Therapy?
The various benefits of cupping include:
Reduced pain
Improved muscle extensibility to move better and reduce stiffness
Optimized mind-to-body connection by improving motor control
Increased muscle activation
Reduced muscle aches
Reduced numbness and tingling from nerve entrapment sites using Neural Tethering techniques
Retraining movement patterns to optimize body mechanics
Improved movement awareness with proprioceptive retraining
Along with much more!
When is Cup Therapy not a good idea?
Do NOT use Cup Therapy in cases of:
Cardiac, Liver, or Kidney Disease
Congestive Heart Disease
Cancer or Malignancy
Bleeding Disorders
Peripheral Vascular Disease
For a further list of precautions or contraindications, contact a Certified Provider for MFD.
How is Cup Therapy used in Physical Therapy?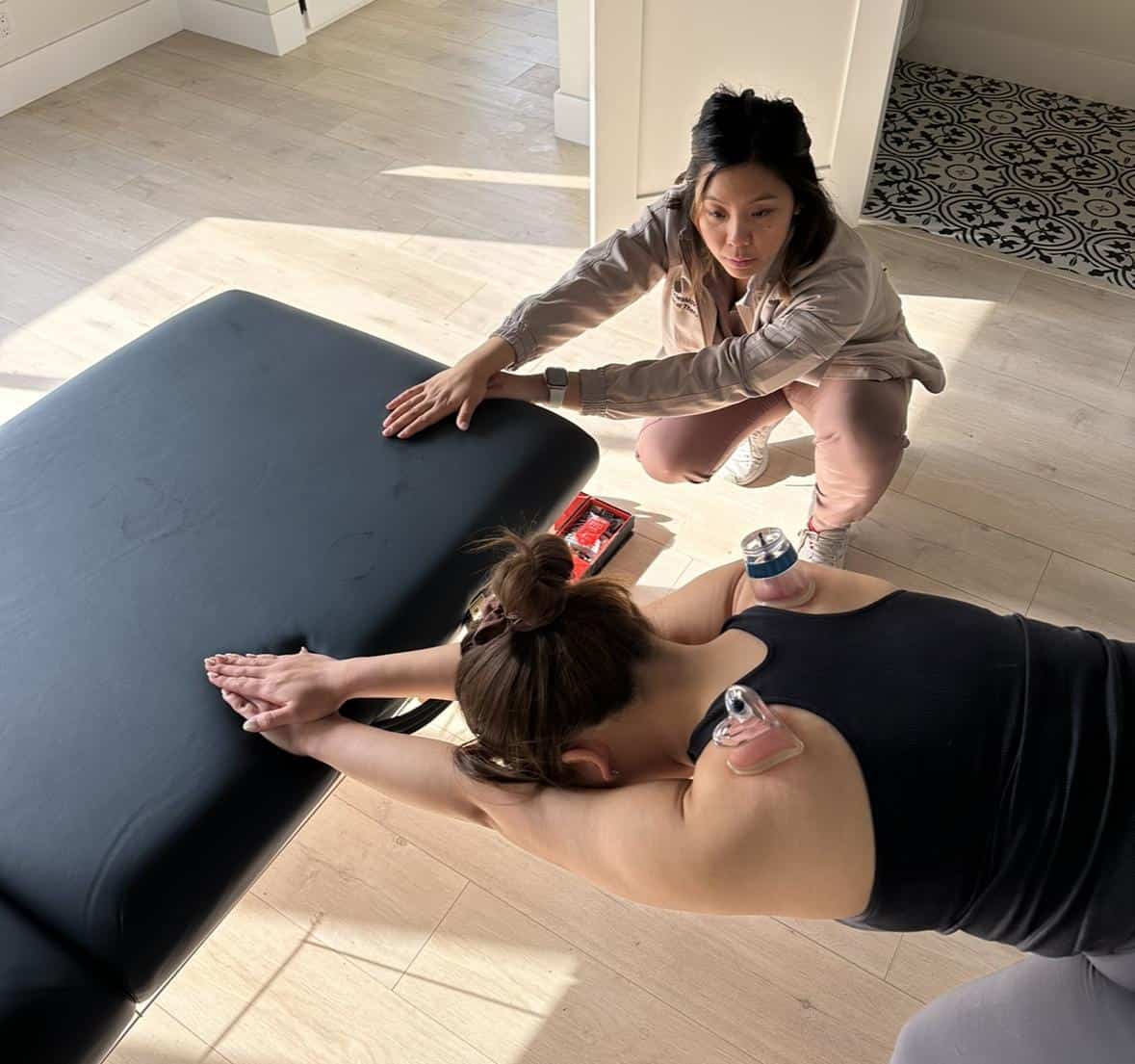 Concierge Physical Therapist and Certified Provider for Myofascial Decompression, Marie C. Fernandez, PT, DPT, MFDc, using Cup Therapy with Yoga to help a person overcome back pain.
Dr. Christopher DaPrato, DPT, SCS, CSCS, MFDc coined the term "Myofascial Decompression (MFD)" while leading research studying the efficacy of Cup Therapy. Dr. DaPrato is a Physical Therapist that standardized Myofascial Decompression and created courses for MFD Level 1 and Level 2 to educate providers around the world.
Cup Therapy was found by Physical Therapists taking the lead with evidence-based practice to expand the clinical understanding and application of fascial anatomy along with how it affects movement science. Myofascial Decompression creates structural changes within the body, influences muscle firing patterns, creates sensory changes to create neurological influence, and influences recovery or performance at a higher level!
Myofascial Decompression can be used with Physical Therapy as an approach to manual therapy and exercise based on movement science principles in orthopedics and sports medicine.
Who can Benefit from Myofascial Decompression with a Physical Therapist?
People recovering from orthopedic surgeries

ACL Reconstruction, meniscus repairs, lumbar fusions, improve scar mobility after surgery, etc.

People experiencing chronic pain

MFD can reduce high levels of stress and incorporate pain science to reduce sensitivity

People with scoliosis

MFD can improve body awareness and muscle imbalances

Athletes (runners, volleyball players, basketball players, soccer players, etc.)

Bodybuilders can improve muscle imbalances for symmetry with aesthetics and activation to improve hypertrophy while maximizing their training regimine
Powerlifters can improve muscle extensibility and coordination needed for squat, bench, and deadlift PRs while also reducing likelihood of injury
Golfers can improve their golf swing!
Dancers can improve coordination and muscle extensibility needed with choreography or technique within their genre

Much more!

For specific populations, explore the Certified Provider map, or inquire with the contact information below.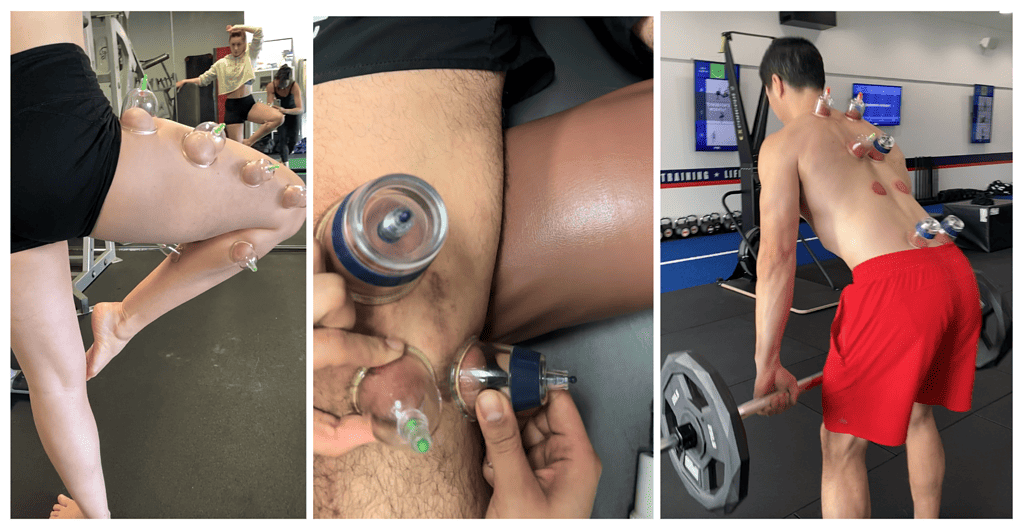 From left to right: Cup Therapy to improve coordination and mobility for a ballet dancer, Cup Therapy as scar mobility after a knee surgery, Cup Therapy to improve lifting dynamics with deadlifts and functional training.
Research Study
—Runners with IT Band Syndrome
(a 2018 MRI Study)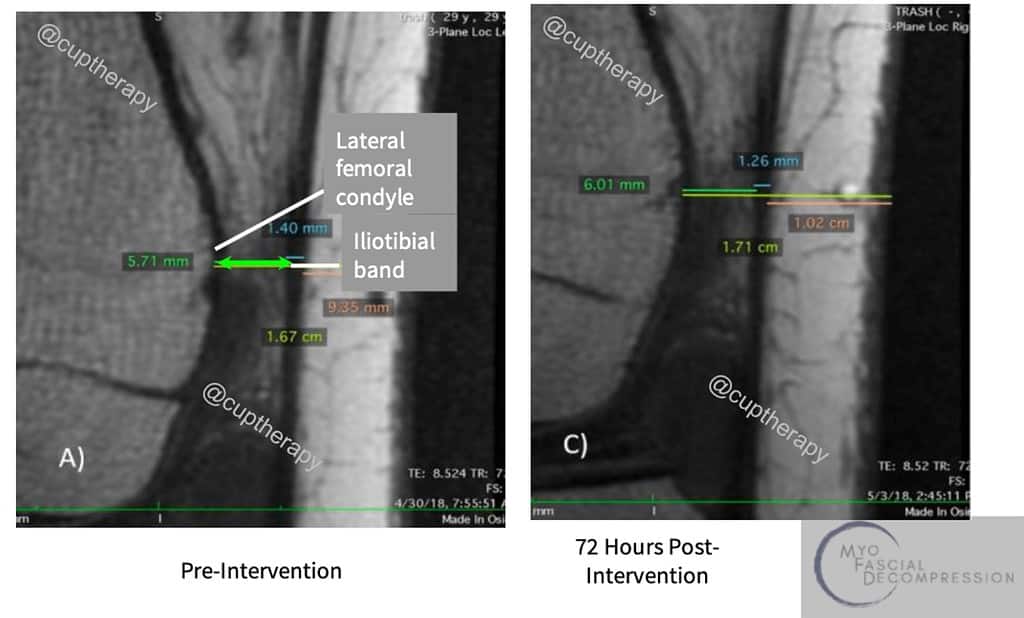 In 2018, Dr. DaPrato, PT, DPT et al found that Myofascial Decompression created immediate and long term tissue changes for runners with IT Band Syndrome. In this single blinded case control study, the population included four individuals that were runners with unilateral ITBS. In the study, MRI measures the distance between the lateral femoral condyle from the iliotibial band.
Results revealed an increase of distance immediately after Myofascial Decompression to exhibit less friction in the symptomatic knee. Furthermore, 72 hours after treatment, symptomatic knees still had a significant amount of distance from the ITB to lateral femoral condyle to demonstrate long term tissue changes to the IT Band.
Where Can I Find a Certified Provider?
Orange County, CA: Marie C. Fernandez, PT, DPT, MFDc as a concierge Physical Therapist partnered with MovementX
Other Regions: Visit this directory to find other certified providers throughout the country.
Conclusion
In summary, Myofascial Decompression and Cup Therapy is an evidence-based approach to move better so you can live better.
Research supports Cup Therapy and shows that many populations—from athletes to people experiencing chronic pain—can benefit from Myofascial Decompression so that their bodies can keep up with their lives and passions!
To find your nearest Certified Provider, check the Certified Provider map (link: https://www.cuptherapy.com/certified-providers) or use the contact information below.
Are you actively moving towards your goals? Contact your nearest Certified Provider for Cup Therapy to unlock your greatest potential.
References
"Certified Providers: Cup Therapy: MFD – Myofascial Decompression Techniques."

Website

, www.cuptherapy.com/certified-providers. Accessed 5 May 2023.

DaPrato, Christopher, et al. "The Immediate and Long-Term Effects of Negative Pressure Soft Tissue Mobilization on the Iliotibial Bands of Runners Using Magnetic Resonance Imaging."

Journal of Bodywork and Movement Therapies

, vol. 22, no. 4, 2018, p. 863, https://doi.org/10.1016/j.jbmt.2018.09.050.

Inc., MovementX.

Movementx

, platform.movement-x.com/account/profile/dr.marie6080/. Accessed 5 May 2023.

"MFD: Cup Therapy: Myofascial Decompression Techniques."

Website

, 2023, www.cuptherapy.com/.
Marie Fernandez, PT, DPT is a physical therapist and certified Yoga instructor with MovementX in Costa Mesa, California. With her extensive orthopedic expertise, individualized care approach, and evidence-based strength training protocols, Marie empowers her patients to move beyond pain, reconnect with their bodies, and achieve their personal and professional goals.