Everything You Need to Know About Regenerative Medicine
At MovementX, we believe movement is the most important commodity in our lives. It's the way we walk, run, jump, play, throw, work, and dance. When our team of physical therapists work with patients to help them move their best so they can live their best, we always strive to stay on the cutting edge of movement health research and scientific evidence.
That's why we sat down with Dr. Noel Peterson, Dr. Kristian Flores, and Dr. Sam Oltman to talk about regenerative medicine—a branch of medicine that develops methods to regrow and repair damaged or diseased cells, organs, and tissues. If you've ever heard of stem cell treatments, PRP injections, or prolotherapy, that's exactly what we delved into.
Our physical therapists are proud to work alongside these three three practitioners at Oregon Regenerative Medicine to help people in the Lake Oswego and surrounding Portland area stay active, healthy, and pain-free.
Here's everything that Dr. Peterson, Dr. Flores, and Dr. Oltman want you to know about regenerative medicine…
What is
regenerative medicine?
Written by Dr. Peterson
For over 30 years, Oregon Regenerative Medicine has been dedicated to empowering our patients to create healthy, active longevity. We have pioneered the non-surgical treatment of musculoskeletal injuries, osteoarthritis, and joint pain with Platelet Rich Plasma (PRP), prolotherapy, and biocellular joint regeneration. We have performed over 30,000 regenerative injections and counting!
Regenerative orthopedic medicine is a powerful healing art and medical specialty. Proficiency requires many years of dedicated training and clinical experience. At ORM, our doctors have decades of experience and are highly skilled in the arts of hands-on diagnosis and ultrasound imaging. We provide evidence-based non-surgical injection procedures for the repair of cartilage, tendons, ligaments, and joints, and provide restorative treatments for skin and hair. Our expertise in longevity medicine provides precision assessment and treatment to enhance healthspan and lifespan.
Click here to learn more about three different types of regenerative medicine.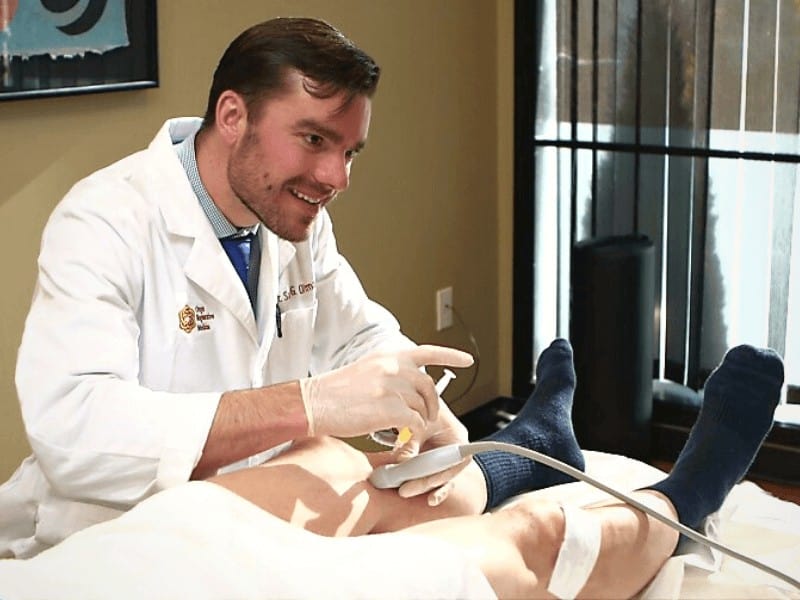 What does effective regenerative medicine look like?
Written by Dr. Peterson
For over 20 years, Oregon Regenerative Medicine has been the only northwest clinic to analyze every patient's Platelet Rich Plasma sample in our laboratory so that we can provide optimum concentrations of growth and repair factors. Having the optimal concentration of platelets, growth factors, red blood cells, and white blood cells is essential.
Most positive outcome studies support a platelet concentration of 4X to 6X the patient's normal level of platelets. This translates to an ideal platelet concentration of 1.0 million to 1.5 million platelets per microliter. In our clinic, we test and confirm that our patients are getting 1 to 2 billion platelets in every milliliter of PRP. This concentration stimulates robust tissue regeneration when compared to lower platelet concentrations.
How has regenerative medicine gained popularity?
Written by Dr. Peterson
When we began treating sports injuries with prolotherapy over 30 years ago, regenerative injections were completely unknown to the public. Over the decades, professional athletes began getting prolotherapy and PRP prolotherapy, reporting much more rapid return-to-play than athletes who received surgery or other treatments alone. As our patients reported their results to their friends and family, the awareness of regenerative medicine began to grow. Now regenerative medicine is practiced in every major city.
What is the future of regenerative medicine?
Written by Dr. Peterson
One of the treatments that I was trained on back in 2016 is ultrasound guided transcutaneous needle hydrodissection for peripheral nerve entrapments. Over the last 5 years, we have seen this treatment being utilized more and more. This kind of therapy treats pain brought on by entrapment and tethering of peripheral nerves, which is common in both acute and chronic pain conditions. Only about 200 doctors in the United States are trained in and utilize this powerful therapy, and ORM is a leader in training other physicians in this remarkable procedure.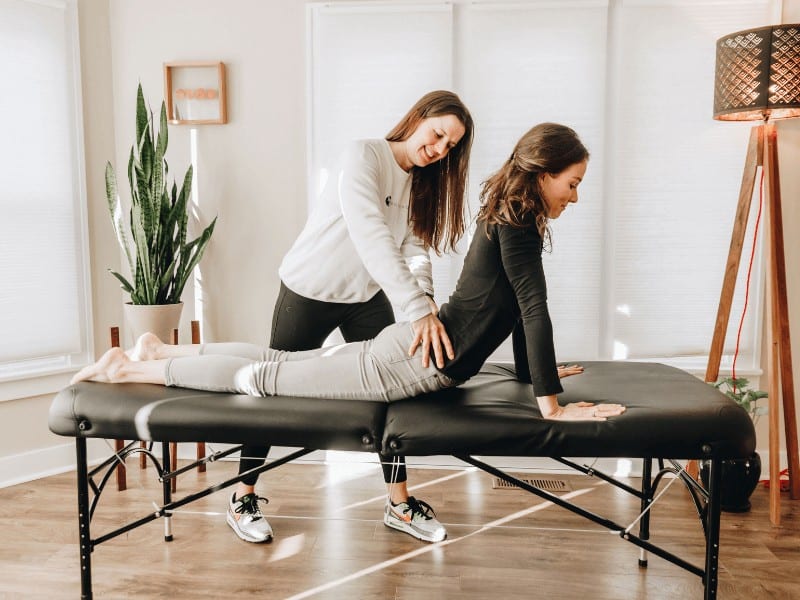 Why is
physical therapy
an important adjunct to regenerative procedures?
Written by Dr. Oltman
Physical therapists are by far the most frequent referral we give to patients because, ultimately, moving is the only way to keep moving.
Many of our patients have problematic movement patterns, adaptations they have made to their injury that create muscle movement patterns that perpetuate the injuries. Our partnership with MovementX is all about correcting these movement patterns so that our patients can return-to-play faster, and avoid reinjury.
After a regenerative injection treatment, there can be a delicate balance between resting and exercising. You don't want to do too much, but you certainly want to do some. Physical therapists are indispensable when it comes to creating a specific and individualized movement plan for patients that is structured and ultimately gets them back to a place where they can exercise and stay fit on their own.
Dr. Ashley Baker is a physical therapist with MovementX in Portland, OR who specializes in the treatment of patients with hypermobility disorders. She and MovementX have partnered with Oregon Regenerative Medicine (ORM) to help people near Portland live more active, pain-free, and happier lives. Click below to request care with Dr. Baker at ORM, or inquire about what services described above may be best for you.